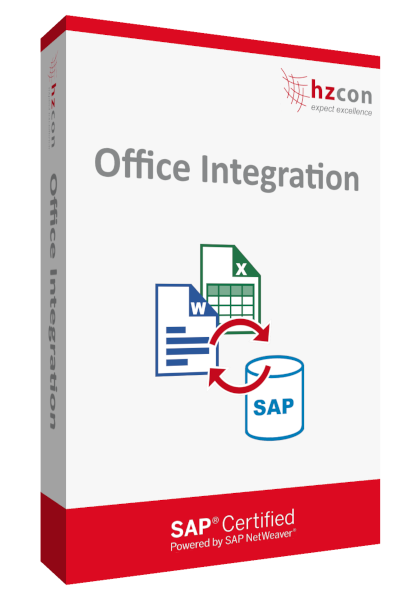 Word and excel integration into your SAP-system made easy!
The hzcon office integration now enables you to use word and excel files with your SAP-system just as you need it.
Characteristics of the office integration
Integration of word and excel into your SAP-business processes
Automatic insertion of data from the SAP-application in the office documents - including text, tables and even pictures
Open and edit the office documents with just one click
Data is stored in the SAP-system only, no local copy of the files
Data from word and excel files can be read again and used in the SAP-processes
You only need Office installed on cliend, everything else is maintained directly in the SAP-system
Client independent: works in SAP-GUI as well as in all web interfaces, e.g. Fiori, UI5, CRM WebUI, WebDynpro, BSP and also non-SAP (local intranet,...)
ABAP-only solution, no other tools required
Word and SAP
Create word templates without the need for special tools, use text, numbers, images and even tables - and all this integrated to your existing SAP processes.
Find out more about
how to use word files in your SAP system
easily.
Videos of the hzcon office integration with word in SAP Fiori and SAP GUI
Certification
The hzcon Office Integration is certified by SAP. That ensures that your can install the add-on in your SAP system without any negative side effects. Also it will not interfere with support packages or new SAP releases and you can uninstall the add-on.
Inexpensive
The hzcon Office Integration costs a one-time fee of €6,000 net per productive SAP system (with any number of clients).      
Your contact person for all questions about our products: Dr. Stephan Ziemer, Phone: +49 621 405483 40